Five Of The Best Geeky Hen Party Themes
 Every girl has a nerdy side; whether it's a love for all things Lord Of The Rings or a grand obsession with Game of Thrones, everyone has something they enjoy freaking out over.
And in 2016, being geeky is no longer a reason to be laughed at – it's actually cool to be super-passionate about something, and why shouldn't it be? Hen party themes can be based on anything and everything, so it's only fair that us fantasy-fanatics have our day too!
For some ladies, hen parties aren't always about strippers and spa days… although we wouldn't say no to a massage from a semi-naked Jon Snow.
So, with that lovely vision burned into your brain, go forth and plan the best hen party of your lives – geeky girls unite!
1. Harry Potter
Perfect for any budding young witches, a Harry Potter themed hen party is a must for the Potterhead hen in your life.
Sort her pals into houses, have themed food, drinks, outfits, party favours and games – all must-haves to make her hen party a bewitching event. Accio vodka!
2. Super Heroes
If the hen is into her comics, Marvel movies, or even just fancies the pants off Thor (who doesn't?), then a superhero-themed party is a fabulous idea. This one requires a little bit of forethought however, to make sure nobody turns up in the same costume!
3. The Lord Of The Rings
Channel your inner hobbit and customise a Lord Of The Rings hen party theme for a nerdy bride-to-be! The internet is full of awesome printables, recipes and games to turn your house into Middle Earth for the evening.
4. Game of Thrones
Organise a hen party fit for the Mother of Dragons! You could assign a house to each guest and customise decorations, favours etc. with their individual sigils on them as a simple way of fitting Westeros into your hen party.
Also, a GOT marathon and a round of this drinking game wouldn't go amiss… You'll end up giving Tyrion Lannister a run for his money with the amount of wine this requires. 😉
5. The Hunger Games
We'd volunteer as tribute to attend this hen party! The world of Katniss Everdeen and co. provides so much material for hen party themes.
You could have a movie night, assign everyone a separate district and come up with some funny activities and drinking games to keep the evening interesting. And with characters like Effie Trinket for inspiration, the outfits have the potential to be very intriguing. May the odds be ever in your favour!
Do none of these hen party themes tickel your fancy? Are you still struggling for some hen party inspiration? Head over to our Ultimate List of Hen Party Ideas!
Have you been stuck with planning the hen party? Why not save yourself some hassle and book with Henit? We'll take care of the important stuff for you, so all you have to do is show up and have a good time! Contact us for further details or give us a call on 044-936-2222. We look forward to hearing from you 🙂 Ciao for now! xoxo
The 10 Most Popular Hen Party Activities
1. Tea Party
Tea parties are scaling the hen party ladder quite quickly in terms of the most popular hen party activities. They're quirky, cute and a unique way to add a classy twist to your hen do.
They don't have to be all prim and properness, either - spike your tea with a drop of whiskey et voila! Perfect hen party activity.
2. River Cruise
Take your hen party into unknown territories with a river cruise! Booze, best friends and banter, all quite literally in the same boat - what's not to love?
A river cruise is a nice way to do something a little different without straying too far from traditional hen party activities.
3. Pole Dancing Lesson
Ahhhh, pole dancing - the hen party activity to top all hen party activities!
Swinging yourself around a pole in front of the girls might not seem like it's going to be good craic at first, but trust us on this one - it's one of the best laughs you'll ever have, and it's a great way to bond with your pals. There's a reason it's so popular after all!
Plus, you might even come away with a few new moves you didn't know before hand. 😉
4. Spa Day
Male or female, hen party or no hen party, everyone deserves a spa day at some point, but brides-to-be arguably deserve one most of all. And, as far as hen party activities go, there are a lot worse things to do than getting a massage and facial!
The stress that goes into planning a wedding can take its toll on our poor hens, so why not book her and the rest of the crew in for a day of bliss? Get primped, preened and pampered before you take on the town that night.
5. Cocktail Making Classes
Cocktail making classes have become somewhat of a hen-party staple in the last decade, and we can see why - they're educational and an excuse for fruity drinks! (OK, educational might be a bit of a stretch, but still.)
Take an hour or two to learn from the masters, and arrive back to your accommodation ready to mix up all your favourite poisons perfectly. You'll be a cocktail queen in no time!
6. Zorbing
For those not in the know, Zorbing is the act of being strapped into a gigantic inflatable ball and rolling down a track at breakneck speed. Sounds like great craic! Zorbing is a perfect day out for the hen with a passion for adventure.
This activity is great for working up a decent thirst before your big night out on the town. Go solo or grab a few of your ladies and ride it out together on Europe's only cornered globe-riding track here in Ireland.
7. Party Bus
Don't fancy pushing your way around a packed nightclub on your last night of freedom? Why not rent a Party Bus, your very own nightclub-on-wheels!
Hop on and experience the road-trip of your life, with unlimited alcohol, fingerfood, your choice of music on an excellent sound-system, and plenty of space for your crew to shake their tailfeathers. If you decide that you'd like to go to the club after all, the Party Bus will drop you outside the door of a club of your choosing. Nice one!
8. Archery
Channel your inner Katniss Everdeen and try your arm at archery, easily one of the most fun hen party activities on the planet. Grab a bow and arrow and let loose at some targets for the afternoon with your best friends - it's a fab way to work up a thirst for the pub that night.
You'll walk away feeling like a complete and utter badass. Trust us, you'll be 'volunteering as tribute' in no time!
9. Go-Karting
Traditionally assumed to be more of a stag-night activity, go-karting is becoming a more popular choice for hen party activities, and rightly so. Who wouldn't enjoy zooming around with your friends, competing for the title of the fastest gal on the track?
Choose this as an activity for your hen weekend and get the adrenaline pumping before you take on a bar crawl that evening.
10. Strippers
The ultimate in ladies' entertainment, a stripper is the Maraschino cherry on top of the boozy hen party cake. Can you think of anything better than a broody, bicep-flexing babe breaking out his best moves for you and your party while you sip on some cocktails? We certainly can't!
If a whole show seems a bit much for you, why not enquire about our Butler In The Buff service? We'll send a handsome hunk to your party ready to wait on you hand and foot for an hour, and he's all yours to ogle. Perfect!
Have you been stuck with planning a hen party? Do the thoughts of planning activities and collecting money stress you out? Why not give Henit.ie a shout? We'll do all the hard work for you (location, accommodation, money collection. etc) so all you have to worry about is getting there and having the craic! Enquire now or call us on 044-936-2222. Ciao for now! xoxo
15 Fab Hen Party Accessories For Under 15 Euro
One tradition that still stands with hen parties is that of matching hen party accessories; the deely-boppers, whistles, feather boas and shot-glasses with penis motifs all fall under typical hen party garb.
But what about those of you who'd still like to do matchy-matchy, but with less tacky-tacky? Alternative hen party accessories can be bank-breaking for some hens, so with that in mind, we at Henit found the 15 cutest, brightest, best hen party accessories for you to choose from - all for under 15 euros each. Fab!
​
1. These adorable little crowns
These sparkly mini-princess crowns hail from Hippenings and an 8-pack is only €8.90. Buy here.
2. These dinky little diamond flash-tattoos
These adorable inkings are stick-on and safe, a sweet way to have the whole hen-party matching without going overboard. They start at €2.77 per 2 sheets and can be purchased here.
3. These eye-catching matchy-matchy t-shirts
T-shirts are a great memento to take away from a hen party, and these ones are far from typical. What better way to support the bride to be than wearing matching shirts in her honour? These ones are available from this shop on Etsy and are priced at €14.76 per tee.
4. Cutesy wine-glass charms
These Instagram-worthy wine glass charms are made-to-order and personalisable, meaning each guest can have her own specific charm. Prices work out at €1.71 per charm and they're available from JGjewellerycreations on Etsy.
5. A set of quirky die-cut lips for straws
These funky straw-props are great for photo opportunities! A pack of 25 costs €11.54 and can be purchased here.
6. Some funky-but-practical hair ties
Because spare hair bobbins are always a good idea, and these ones are waaaay too cute to pass up! Prices for these ones start at €5.54 and can be purchased here.
7. This must-have ring shot-glass
How adorable! Make necking shots a whole lot more palatable with one of these bad boys. Priced at $8.95 (€8.03) for a set of 12, you can purchase a set for you and your crew here. (P.S. drink responsibly!)
8. These fairy tale-esque party food picks
These precious party-picks come in packs of 10 and are available here. Priced at €6.14 per pack.
9. These charming transferable nail tattoos
A subtle set of matching accessories for your bridesmaids. Priced at €14 for a card of 47 temporary tattoos, these fab decals can be bought here.
10. This bonny "bride-to-be" headband
If tacky tiaras and veils aren't your scene but you'd still like to participate in hen party tradition, then this headband might just be perfect for you! Available in multiple styles, this headband will only set you back €6.46 and is available here.
11. These wonderful wish-bracelets
These dinky little single-charm bracelets are a perfect memento for your guests. They're priced at €1.10 per bracelet and are available to buy here.
12. This enchanting pair of fairy wings
These unique wings are suited to a bride with a sense of individuality. They're priced at €5.00 per pair and can be bought here.
13. This super set of matching sunglasses
Everyone loves some coordinated accessories, let's not lie to ourselves! These bad boys are priced at €4.61 per pair, and can be purchased from here.
​14. These sublime matching bridal-party headbands
These adorable head-bands are sure to make your group stand out, and they're a far cry from the dirty deely-boppers one normally associates with hen parties *ahem*. They're priced at €6.45 per headband. Pick them up here.
15. These tastefully cheeky flash tattoos
Oooh, how 2016 of us! Flash tattoos are the latest trend in hen party accessories, and we happen to like these ones very much. They start at €0.92 per tattoo and are available here.
Why not take the weight of party-planning off your shoulders and book with Henit? We'll do all the hard work so you don't have to, leaving you with far more free time to decide on things like hen party accessories. Enquire here or call 044-93-62222!
Top Tips To Throwing A Cheap Hen Party
When it comes to organising a hen party, there is a belief that it must be an expensive affair; after all, who doesn't want a bit of pampering on their last night of freedom? However, just because a hen party is planned on a budget doesn't mean that it can't still be opulent. Read on for our best tips on planning a cheap hen party that comes across as anything but.
DIY décor
DIY décor is a fun and fancy way to save money when planning a hen party. Instead of spending silly amounts of money on banners, deely-boppers and balloons, grab some friends and a pair of craft scissors before getting to work!
DIY decorations are also an excellent way to personalise the hen party and give it a unique touch. Explore Pinterest for some design ideas and order craft supplies in bulk from Amazon or somewhere similar.
With enough attention and effort put into creating the décor, a cheap hen party can look a million bucks.
Potluck
Instead of booking in somewhere for a fancy meal, why not get everyone to bring a dish and have a potluck? This way there's lots of choice for even the pickiest of eaters, and if everyone cooks something then there will be plenty of food to go around.
Dinners can be expensive and even a two-course meal in a restaurant can break the budget for some people. Self-catering parties are an excellent way to save a few euros and open up the budget a little bit.
Book with an organiser
Booking everything by yourself can end up sabotaging your budget. Booking with an organiser is a handy way to ensure you get the best of everything at the lowest prices.
Here at Henit, we will put in the best of effort to help you organise a cost-conscious, cheap hen party. We have packages to suit every kind of price plan, as well as an efficient online-payment system.
We also offer Slab It wristbands, which entitles the wearer to complimentary drinks in selected pubs and bars. When booking with Henit, complimentary finger food is on offer in the venue of your choice as well. Gratis stuff is always good for a budget-conscious party!
Transport
When planning a cheap hen party, transportation is an important factor budget-wise. Transport can be costly if you're not careful.
When it comes to pretty much any event, carpooling is probably the most budget-friendly method of transportation. Depending on the size of your group, you'll only need a handful of designated drivers and if everybody pitches in for fuel, you're sorted!
If carpooling isn't an option, then shop around for the best alternatives including public transport. (Bonus! If you book with Henit.ie, we will help you organise the cheapest and most suitable mode of transport for you and your ladies so you don't even have to worry about it.)
Staycation
Going abroad for hen parties is becoming more and more popular as time goes on, however in the current economic climate jetting off to the middle of Europe for the weekend just isn't financially realistic for a lot of people.
Ireland has heaps of fabulous destinations for hen parties, with myriad things to do and see from one end of the island to the next. Staycations are perfect for a cheap hen party, and are a great way to escape from the norm and mix it up without blowing your whole budget on planning a foreign trip.
If you're stuck for ideas on where to go, have a gander at our list of Ireland's top hen party destinations for some inspiration.
Accommodation
Different accommodation styles will obviously suit different budgets, so it's worth shopping around before settling on that expensive 4-star hotel.
A B&B or self-catering apartment/house will most likely suit smaller budgets, and if you're trying to save money when organising the party then these are your best options.
While accommodation is an important feature of a hen party, there's no real point in spending an arm and a leg on a night in an upscale hotel when, chances are, you'll only be there to shower, get dressed and sleep.
Pick somewhere comfortable, cost-effective and best suited to you and your group.
Booking early
While this may seem a little bit like common sense, we're all guilty of procrastinating things or putting things on the back burner until absolutely necessary. However, taking things slow when planning a hen party can have some dastardly effects on your dough supply.
Leaving it until last-minute means rushing around, taking the first price offered on activities, accommodation etc. and leaving you all out of pocket. Booking early ensures a leisurely amount of time to pay up for everything, as well as enabling you to shop around for the best deals.
Even simpler; book with Henit and we'll shop around for you! When booking with us, you have up until three weeks before the party to pay everything off, leaving you with lots of time to save if you've booked early enough.
So what are you waiting for? Time to get moving, ladies!
Why don't you save yourself a few quid and give Henit a shout? We'll plan with you to organise the best, most in-budget options for you and your party, without losing out on quality. We know our stuff when it comes to hen parties, ladies! Enquire here or give us a call on 044-93-62222. xoxo
The Complete Guide To Unique Hen Party Ideas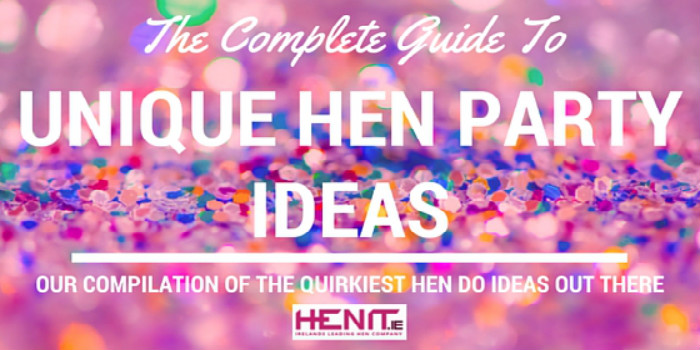 In the 21st century, hen parties are becoming more and more about the eccentric: everyone wants something different than the bride before them, and every hen deserves as much! The glory days of L-Plates and feather boas are gone, and quirkiness is taking over as the top-dog of hen party ideas.
The hen do should be a reflection of the lady that it's all about. Individuality is the spice of life, and if a whole party dedicated to the bride-to-be doesn't suit her personality, then it's not reaching its full potential as the most awesome hen party ever. *sadface*
So, with that in mind, we here at Henit have put blood, sweat, tears and glitter into compiling the most complete, comprehensive guide to unique hen party ideas that the hen-party world has ever seen.
Like, for real, ladies - this thing is the be-all and end-all of quirky hen party ideas. There's definitely something in here to suit every bride-to-be, from the plainest Jane to the fussiest Francis. So, what are you waiting for?! Grab a pen, some paper, a glass of wine and dive in!
Hen Party Ideas: Games
No hen night would be complete without some funny, cheeky games and activities to get the giggles going. However, we all know the favourites; the classics played at every hen party (Never Have I Ever, Truth or Dare etc.) can get a bit dull after a while!
So why not have a root through our round-up of unique hen party games and activities? We've included the best, most original games for a hen party that we could find; hopefully you'll consider them as entertaining as we did!
(PS: Games are also an excellent ice-breaker for any groups that haven't mingled much before the party. If this sounds like your guests, be sure to include a game, as it's one of the few must-do hen party ideas!)
​
Bra Pong
Kind of like beer pong... but with C-cups instead of plastic ones! For this game, you'll need a large piece of board, some old bras and a couple of ping-pong balls. Work out a score system (e.g. lower-pinned/bigger bras are worth less points than higher/smaller ones), pin the bras to the board and you're all set.
​
Banned Words: The Bridezilla Edition
This game requires a prop: A tacky veil, a blinged-out tiara etc. Choose a list of words that will be banned for the evening, such as "bride", "wedding", or whatever your party decides is appropriate. The first unfortunate guest to utter one of these words will have to don the hat until the next person slips up, and so on. This game is sure to earn your group some questionable looks when out and about, but it's so worth the laugh you'll have!
Pass The Balloon
We know what you're thinking. What's so unique about this game? Well, Pass The Balloon is admittedly a classic game… but not the way we play it! Write down a series of awkward questions and place one inside of each balloon. Blow it up and place it between your knees, passing it to the knees of the next guest. The unlucky lady who pops the balloon is the one who has to answer the question inside. If she refuses, she has to take a shot of alcohol of the bride's choice.

Sculpture Making
Here at Henit, we do love the cheekier hen party ideas, and this is the ultimate naughty hen party game so we just had to include it! You will need either a soft, cylindrical piece of fruit/veg(cucumber, banana etc.), or some play-dough. The aim of the game is to sculpt the finest specimen of penile persuasion that you can. Put Michelangelo to shame with your phallic creations, girls! The bride gets to pick the best one, with a prize organised for the winner to reward her for her hard work. *ahem*

The Question Game
Again, a traditional hen party game, but we suggest playing it with a twist. One member of the party will have to quiz the bride's husband/wife-to-be with some questions prior to the hen party, and take note of his/her answers. Then at the hen party, the bride will be asked the same questions, but must provide the answers she thinks her partner gave. For every wrong answer, she must drink. For every right answer, she may delegate a member of the party to drink. Here's the fun bit: instead of asking the usual, cutesy questions e.g. "what part of [bride] does [partner] love the most", mix it up with some slightly dirtier questions. All in good fun, ladies!

The Lingerie Game
Have every guest purchase a piece of lingerie for the bride. As they arrive, get them to leave the lingerie in a box until everybody is there. Then, have the bride pick out the lingerie one piece at a time and try to determine who bought it for her. If she's wrong, she must drink. At the end, she will have a lovely collection of lingerie to bring on honeymoon as well as a fab memory of her hen party. (Pro-Tip: Set a price limit for the lingerie so nobody ends up feeling awkward about how much they spent on their piece.)

Story Time
Get every guest to write down an embarrassing or unusual story about themselves (the less well-known the better). Place them into a bowl and mix them up. Take it in turns for each guest to pull out a story and read it aloud. Everyone must guess who the story is about. If they get it wrong, they must take a drink. If they get it right, the owner of the story must drink. This game is a fantastic way to warm up for the night and get the drinks flowing.

The Cherry Game

Okay, this one is on the messier side of hen party ideas but it's so worth it! Place a maraschino cherry into a bowl of whipped cream. The aim of the game is to eat the cherry without using your hands. The first person to finish theirs is the winner. Bonus points if you manage to tie the stem! You can play this game in head-to-head rounds, or time everyone individually and declare the fastest time the winner.

​

Hen Party Ideas: Themes

When it comes to hen party ideas, the best and most universal way to make sure your hen party is unique is to pick a theme. Themes are broad, universal and versatile - every aspect of a hen party can be planned or based around a theme if it's general enough! (Pro-tip: Pick your theme at the start of your planning. This will make figuring out all the other parts of the soiree a lot simpler as you go along. )

​

Vintage Theme
The vintage theme is the perfect hen party idea as it's completely versatile and can be tailored to the person's tastes. What is vintage clothing? Everything from the 1920s up to the last decade is considered vintage clothing. This means that all you have to do is pick an era for your vintage hen party. We'll take the 40s as an example: don a petticoat, source a tea-dress (or some overalls like Rosie the Riveter, if dresses aren't your thing), pin your hair in some victory rolls and you're pretty much good to go! Attend a classy, old-world cocktail bar or tea party as an activity, and hand out a sheet with some 1940s phrases on it to give the gals a good old-fashioned giggle as they sip on some grasshopper cocktails.

​

Fairytale Theme
Again, this theme is extremely versatile, with a plethora of fairytales in the world to choose from. If her favourite fairytale is Sleeping Beauty, you could combine this theme with a slumber party and decorate accordingly. Create a canopied pillow-paradise in your own home, with some Sleeping Beauty cocktails, matching pyjamas, a stack of Disney movies, and personalised sleep-masks as party favours. For a broader take on the fairy-tale theme, get everyone to come dressed as their favourite princess or fairy-tale character.

​

Nautical Theme
A classic party theme, the nautical theme is an oldie but a goodie! Nautical stripes, splashes of red and gold, rope garlands and seashells are all good, solid décor points for this hen party theme. As a cute little keepsake, every attendee could write a piece of marital advice on a small scroll of paper and place it in a large glass bottle to give to the bride at the end of the night. This is another strong, customisable theme and there's lots of leeway to play around with it, so have fun sailor!


Mad Hatter Tea Party Theme
Looking for a theme that's unique and far-removed from the usual hen-party palaver? Look no further! This hen party idea is utterly delightful when done right, so if you're a crafty person with some time on her hands then this is perfect for you. Source some mismatched china and set your table for high tea. Label some little jars and bottles with personalised "eat me/drink me" labels before filling them with sweets, cakes or drinks. Every guest could bring a quirky hat or fascinator of their own (or if you're feeling super-crafty, you could organise a hat-making class for the group!) The décor ideas for this are in abundance, so have a look on sites like Pinterest to gain some inspiration!

Hollywood Theme
Channel your inner Marilyn Monroe with this party theme, where glitz and glamour reign supreme. Throw down the red carpet for your guests and greet them with champagne and hors d'oeuvres to make them feel like the superstars they are! The Hollywood theme is a fun, easy hen party idea to follow, with enough variability to suit every party guest. Model your outfit upon the likes of Audrey Hepburn, Greta Garbo, or any Hollywood icon, and party in style with your girls. How about handing out mini-Oscars or clapper-boards as keepsakes? Another fun way to spin this theme is focusing in on an old-Hollywood movie as the sub-theme, such as Breakfast at Tiffany's.

DIY Hen Party Ideas

Another brilliant way to make sure your hen party stands out from the crowd is to DIY it: the décor, the games, the gifts, anything you can take a hot-glue gun and some glitter to! DIY hen party ideas are good fun and the feeling of accomplishment you'll get when you see the finished product will be worth the effort you put in. These DIY hen party ideas are the best, quirkiest ones on the web, and we've done all the research so you don't have to, so grab some craft paper and get stuck in!

Gift Bags
Little party bags are a fantastic way to thank all your gal-pals for supporting you and attending the hen party! The ideas for this are endless, from mini-bottles of their favourite alcohol, nail-polish with personalised tags, lippies in their favourite colour… the list goes on and on, and the best part is it's entirely up to you! You know your friends and family best, so you can put in that little extra bit of time to personalise each bag. They can be tweaked to fit the theme of the party also, if there is one.

Oh-Sh*t Kit
A little bit like the gift bags but specific to the hen party, an oh-shit kit is basically the life-saver of any hen party. We would even go as far as to say it's one of the most essential hen party ideas! Fill some bags with paracetamol, sunglasses, nail files, band-aids, hair clips etc. and hand them out at the start of the party to cover any hen-do-related mishaps. Your hungover friends and family will definitely be singing your praises the morning after the night before!

Customised Glasses
Customised wine or shot glasses are an excellent accent to any hen-party décor, and a great talking point to break the ice. Try dipping the stems of wine glasses in some chalk paint and letting your ladies scribble on their own glasses, or jazzing up some plain shot glasses with a healthy dose of glitter. These can be done to fit in with a theme or colour-scheme also. When all's said and done, you can either send a glass each home with your guests or keep them for future soirées, so there's no excuse not to give these a try!

Lipstick-Print Board
An adorable keepsake for the bride-to-be, this lipstick-print board will be sure to hold a special place in the hen's home for the rest of her life. Simply instruct each guest to bring their favourite brightly-coloured lipstick to the party, put it on upon arrival and kiss a large sheet of paper, leaving their lip-prints on it. Sign beneath your lip print and frame it for the bride! If you want, you can place a photo of the bride in the centre of the page, or a quote about sisterhood, friendship, love etc.

​

​

Photo Props
Photo props are one of the most popular DIY hen party ideas and it's not hard to understand why; they're fun, eccentric, and they can be tailored to suit any and every style of hen party. Best of all? Making them is cost-effective and you won't have to fork out a fistful of cash for some paper props! Find some printable props online, print them onto thick card and cut them out, make a prop-wall or photobooth, or craft a Polaroid-inspired frame to take the best, brightest, funniest photos with your group.

Pinata
Now, obviously we don't expect you to make the pinata; this is more about the contents of it! Fill a pinata with mini bottles of alcohol, candy, make-up, costume jewellery etc. and give it a good bash with the girls to get the party started. If you want, you can even spice it up by putting in little on-the-spot truth-or-dares - the lady that's unlucky enough to knock one must partake in the challenge. This DIY hen party idea is a fab way to get the ball rolling with festivities.

Personalised Balloons
This is easily the most cost effective suggestion on our list of DIY hen party ideas. Instead of forking out a heap of cash for fancy balloons, all you need is a packet of regular balloons, some helium, glitter, glue, and a couple of magic markers - et voila! Decorative balloons that the bride-to-be will appreciate much more than something store-bought. Scribble some doodles, positive messages etc. on a balloon, fill it with helium and decorate accordingly if you so wish. This idea is pretty, personal and a breeze to make, so what are you waiting for? Get doodling! (Tutorials here and here.)

DIY Lace Princess Crowns
We saved our favourite of the DIY hen party ideas for last - the elegant DIY lace crown. While it's a bit on the difficult side of crafting, the end result is so worth the effort! You really will feel like royalty in these sublime crowns, and they're completely customisable, so each guest can have one that suits them best if you really feel like pushing the boat out. They're an excellent prop for princess or fairytale-themed parties, and they double well as a keepsake. The full tutorial can be found here.

Hen Party Ideas: Locations

Leaving your home-town for a weekend of festivities has always been amongst the more popular hen party ideas, but the locations rarely vary. We've hand-picked the towns and cities not by popularity but by entertainment factor, because popular doesn't always mean good! This list contains a healthy mix of national and international destinations, so whether you've got a staycation or a city-break in mind, there's certainly something on here to suit you. Safe travels!

Mullingar
Mullingar is a town located in County Westmeath, in the heart of the Midlands. It is fast becoming a go-to destination for hens in search of a good time. If you're looking for a craic-filled hen weekend, then Mullingar is the hen-party destination for you! The town is chock-full of hen party ideas and activities to take part in. Take on dinner and drinks at the Greyhound Track, mix it up with a cocktail class or play a round of bubble soccer to make the most of your time here. In the evening, Mullingar has a massive list of pubs to choose from, as well as late bars and nightclubs, so there's no excuse not to have a good night. (Henit packages to Mullingar listed here.)

Carrick-on-Shannon
Carrick-on-Shannon is an excellent choice for any hen looking to celebrate her last night of freedom in an unforgettable fashion. Relax on a boat cruise along the Shannon, play some bubble soccer with your gal pals, take a naked-man life-drawing class… the options are endless and there's something to suit every hen. Carrick hasn't become such a popular hen party destination for no reason; the town boasts a great selection of pubs, clubs and bars to party in with your ladies. (Henit packages to Carrick listed here!)

Galway
Known as the Cultural Heart of Ireland, Galway is a perfect hen party destination for any group looking for an authentic, Irish hen do. Attend a trad session, fill up on a selection of the city's fresh seafood and take a drive around the beautiful hills of Connemara during your stay. In the evening, you can look forward to having a brilliant night as Galway's renowned nightlife scene is vibrant, diverse and full of craic. Enjoy some trad music if that's what you're looking for, or partake in some late-night bopping in one of Galway's top nightclubs. (Henit packages to Galway listed here!)

Kilkenny
Kilkenny is a medieval city located in Ireland's south-east. The city prides itself as a historical hub, with lots of interesting activities to do during your hen weekend. Walk around the Medieval Mile and drink in the rich history of Kilkenny as you explore the city. Partake in some naked man life-drawing or learn some new moves in a dance class to give you and your girlies a good giggle before heading to the pub later on that evening to celebrate. Kilkenny has a lively, engaging nightlife with plenty of locations for your party to sip on some cocktails and have a fantastic time. (Henit packages to Kilkenny listed here!)

Edinburgh
The capital city of Scotland, Edinburgh is a center of culture, history and the arts. Many festivals take place in the city throughout the year, which is something to consider when picking dates. (Side note: Festivals are definitely up there with the most unique hen party ideas - just something to keep in mind!) Edinburgh has a massive selection of daytime activities and nightlife spots for you to enjoy. Choose from things like a spa day, a day at the races, or Escape - a game in which the objective is to escape a mysterious locked room in 60 minutes, and an excellent chance for bonding with your friends. By night, enjoy some quiet cocktails or undertake an epic pub crawl with your crew. Either way, Edinburgh is well-equipped to give you an absolutely unforgettable hen night. Let us know how the haggis tastes! (Henit packages to Edinburgh listed here.)

Liverpool
All you need is love… and a hen that's up for anything! Liverpool, a city famed for its musical connections (the birthplace of the Beatles, anyone?), is definitely a destination to consider when planning your hen night. Hens interested in culture and history can root around in one of Liverpool's many museums by day, such as the Merseyside Maritime Museum or the Walker Art Gallery. Beatles fans can visit the preserved homes of John Lennon and Paul McCartney or partake in the Beatles Story Experience. By night, take your pick of Liverpool's various pubs, clubs and bars, hitch a ride on the party bus, or enjoy a casino or comedy night. (Henit packages to Liverpool listed here!)

Newcastle
Why-aye pet! Newcastle is a city notorious for its party scene, made famous by the antics of the Geordie Shore crew. But visitors never leave disappointed, which became clear when the city ranked third place in TripAdvisor's Travellers' Choice Destination Award for European Nightlife destinations. Bustling, energetic and full of choices for hen party entertainment, Newcastle is a solid choice for any upcoming hen weekend. Enjoy a Dreamboys show, indulge in a day at the races or a night at the dogs during your stay. Whatever you decide to do, you can guarantee that Newcastle won't let you down. Let's get mortal! (Henit packages to Newcastle available here.)

Prague
Prague is known as one of the greatest centres of culture in Europe. It is the capital city of the Czech Republic and has a breathtakingly beautiful, fairy-tale quality, with its cobbled streets and stunning architecture. Prague is the perfect city for a hen looking to explore a culturally and historically rich area. Take a cruise on the river Vltava, chance your arm in one of the casinos, or have a go at white-water rafting - these are just some of the exciting things Prague has to offer your group! The nightlife is vibrant, with a huge selection of restaurants, pubs and cocktail bars to choose from. (Henit packages to Prague available here.)

Barcelona
The capital city of Catalonia, Spain, Barcelona is an excellent destination to hold your hen fiesta! Take the opportunity to wander down Las Ramblas and drink in the vibrant, electric atmosphere of a city famed for its culture. Enjoy the lively nightlife scene, with a huge selection of pubs, bars and clubs to choose from. Take a private cruise or indulge yourself in the Hammam Arab Baths before tackling a pub crawl with your ladies. For the more adventurous hens, take a shot at parasailing, a banana boat ride or a pole dancing class. (Henit packages to Barcelona available here!)

Marbella
Marbella is one of the top party destinations on Spain's Costa Del Sol. The destination attracts multitudes of tourists every year, including many hen parties. Top up your tan on the beautiful beaches while you and your group decide where to go for drinks that night, or if sunbathing isn't a priority of yours, take a trip to one of the many museums or golf courses Marbella has to offer. Still not tickling your fancy? Not to worry! Marbella has heaps of fun activities to partake in, such as boat tours, various water sports, spa days and horse riding. By night, undertake a pub or club crawl with your girls and spend your last nights of freedom letting loose on the dancefloor. Full list of Henit packages for Marbella is available here. )

Hen Party Ideas: Activities

The activity is the essence of the hen party; it should be something that the bride will really, truly enjoy as opposed to just a time-filler before the pub. With that in mind, read on to get the low-down on our round-up of the best unique hen party activities.

​

Tea Party
Put your Sunday best on ladies, it's time for high tea! Tea parties are scaling the list of popular hen party ideas with vim and vigour, as the old activities usually associated with hen parties are beginning to fall out of favour. Book you and your ladies in for afternoon tea in a fancy hotel or posh castle, and indulge in some cocktails and cakes while dressed to impress in white gloves, pearls and tea-dresses. Tea parties are fun and fabulous, the perfect idea for a girly hen who doesn't fancy taking part in a rigorous activity.

​

Boat cruise
A moonlight boat cruise is a lovely way to celebrate a hen party without going too overboard (get it?!). Spend the evening lounging on the deck with a glass of champagne in your hand, gliding along the water with your best friends beside you. Sounds like a recipe for the perfect night! The Shannon River Cruise comes complete with a state-of-the-art sound-system and light machine, providing all the essentials for you and your soirée to get turned up when night falls.

Extreme Sports
For every hen that adores tea parties, cocktail classes and crafting, there's a hen who loves hiking, getting muddy and driving quad bikes! A day of extreme sports, such as quad biking through forestry, white-water rafting and zorbing sounds like heaven on earth for a lot of brides-to-be. Hen parties don't have to be all luxury and lace - some girls love nothing better than working up a sweat and feeling the rush of adrenaline, and here at Henit we've got them covered! See our list of activities for more down-and-dirty hen party ideas.

Volunteering
If you're really looking to turn the hen party stereotype on its head, giving up the afternoon to volunteer for a worthy cause is the best way to do it. Now, we're not suggesting you abandon the entire hen party and spend a weekend volunteering (although if you'd like to do that, more power to you!), but skipping out on a couple of hours of drinking or pole dancing to help out a charity close to your heart is a great way to make your hen party really mean something. You can finish out your party on a good vibe that night, knowing that you got to enjoy yourself as well as giving your time to a cause that really needs it.

Spa Day
A popular choice for hens, a spa day is the perfect way to de-stress a busy bride-to-be. Pack your bags, turn off the phones and steal away to a spa retreat for the weekend. Indulge in a massage, recline in a seaweed bath, or treat yourself with a facial. The options are endless, each one as blissful and chilled out as the last. When you're feeling relaxed and pampered to the highest degree, throw on your gladrags and take on a night on the town looking radiant.

General Divilment
Okay, so we know we said this was a list of unique hen party ideas, but we couldn't make an entire index of hen party ideas without giving a nod to tradition! Hen parties are first and foremost all about the craic. This is a well-known fact - nobody goes on a hen party to sit quietly in the corner of the pub drinking water! For hens that are looking for the traditional, no-holds-barred hen do, there exists an entire world of possibilities, bathed in a sea of pink feather boas and spilled tequila. Grab some L-Plates, rent a party bus and book the stripper before letting the girls loose on the town for a pub crawl of epic proportions.

Pole Dance Class
Time to learn some new moves and impress your spouse-to-be! Pole dancing is an excellent choice of activity for any hen looking to have a giggle and learn something new in the process. Take a class with a professional instructor and leave feeling sexy, sassy and ready to take on the dance-floor that night. Who knows, this class might even spark a passion for pole dancing that you never thought you'd have! You'll never know unless you try, so add this fun class to your hen party activities and give it a whirl.

​

Hen Party Ideas: Gifts

Nobody goes to a hen do expecting a gift, which is why they get their own entire section in our post of unique hen party ideas - they're unexpected, not usually done and a lovely little bonus for your attendees! There are myriad excellent hen party gift ideas out there, but we've pulled together the prettiest, most suitable ones for our lovely hens.

For the Guests

Pedicure-In-A-Jar

This adorable idea is a perfect little keepsake for your hen party attendees. Unlike a lot of mementos, this pedicure-kit will actually get use instead of being left on a shelf or in a box under the bed! Simply purchase some mason jars with lids (these ones on Amazon are perfect), and fill it with bits like an emery board, nail-clippers, cotton wool and a couple of mini nail polishes. You can even make some personalised tags if you'd like! Tutorial can be found here.

​

Survival Kits
Fill some bags with paracetamol, nail files, band-aids, hair clips etc. and hand them out at the start of the party to cover any hen-do-related mishaps. Your hungover friends and family will definitely be singing your praises the morning after the night before! Throw in a disposable camera so you'll all have lots of funny pictures to remember the night with.

Personalised Accessories
Accessories are always a great idea when it comes to keepsakes and thank-you gifts because they will always get used. Customise some sunglasses with individual names on the arms, or purchase some matchy-matchy best-friend bracelets for your bridesmaids on Etsy.

Glitter-Covered Champagne Bottles
Nothing says "celebration" like champagne and glitter! These hen-party favours are cute, glamorous and easy to make. The bottle can be kept as a memento once the champagne has been drank, so the effort you put into customising them will be worth it. Tutorial here.

Charitable Donations
Hen party ideas don't usually revolve around giving to charities, but hear this one out. For the hen who'd like to make her party favours leave a really lasting impression, why not make a charitable donation in the name of each attendee? A charitable donation will not only help out someone who really needs it, but it will give you and your guests a little boost of positive energy, and it also ensures that the hard work you put into organising party favours doesn't go to waste.

​

For the Bride

Lingerie
A newlywed bride can never have too much matching lingerie. Get her measurements and purchase some for her, or obtain a gift voucher for her favourite lingerie store and let her treat herself.

Bridal Keepsake Box
A bridal keepsake box is a beautiful idea for a bride-to-be. Keepsake boxes can be filled with all the little things the hen wants to keep from her wedding planning, hen party and wedding day, so she can have them to look back on for years to come. DIY it or find a gorgeous one online, like this box from Etsy.

Scrapbook of Memories
Another touching gift idea for the bride, a scrapbook filled with memories from her life is a lovely way to mark the end of her singledom. Gather letters, photos and words of encouragement from her parents, family and friends and decorate the pages accordingly. This one can be a real tear-jerker, so keep the Kleenex handy.

Spa Day Voucher
Wedding planning is challenging at best and a complete nightmare at worst, so your bride-to-be could probably do with a little bit of pampering. If a spa day isn't the hen-party plan, then why not purchase her a gift card for a day of treatments at a nearby spa? She can relax and give herself some much needed TLC in the hectic run-up to the wedding day.

Date night Ideas/Marital Advice Jar
This one is simple and cost-effective. Have every member of the hen party jot down some date-night ideas or a piece of marriage advice for the newlyweds and place them all in a jar which can be decorated accordingly. This is a really adorable idea and can be adapted many different, quirky ways, like this wooden spoon "Recipe For A Good Marriage" jar.
---
So, now that you're clued-in on the nitty-gritty of hen planning, why don't you save yourself some hassle and book your party through Henit? We'll take care of all the important stuff for you so you can focus on making sure it's the best hen party ever! Contact us for further details. We look forward to hearing from you 🙂 Ciao for now!
Hen Party Ideas: 9 Easy Cocktail Recipes
Usually cocktail-making and hen party ideas only cross paths if the party is booked in for a cocktail-making class, but mixing up some classy concoctions at home can be just as fun!
If you're looking for some simple hen party ideas, cocktails are a classic way to spice up any party. The internet is full-to-bursting with excellent recipes, but a lot of them are complicated, time-consuming and full of random ingredients that you're not going to find in your local supermarket or off-licence.
However, here at Henit we've taken the liberty of scouring the world wide web to find the simplest, most scrumptious hen party cocktail recipes for our lovely hens to serve at their soirées!
There's something for everyone on this list, from the prosecco lovers to the whiskey-worshippers, so get those muddlers and mixers out, ladies. Cocktails are the queens of great hen party ideas!
(Note: For these cocktail recipes, it's advisable to purchase a cocktail-mixing set if you haven't got one already. Check out Amazon for some quality, affordable mixing kits. )
1. Raspberry Daiquiri
Serves: 1
Ingredients:
50ml/shot of light rum

25ml lime juice

2 spoons of caster sugar

6 raspberries
Method:
Add 5 raspberries and sugar into mixing glass.

Muddle down both ingredients into a paste.

Add other 2 ingredients and fill the mixing glass with cubed ice.

Shake well for 10 – 15 seconds.

Double strain drink into a glass.

Garnish with a raspberry.
Original recipe here. 
2. Bourbon Cherry Coke
Serves: 2
Ingredients:
2 shots of bourbon
1 ¼ cups fresh cherries, pitted
1 teaspoon sugar
Bottle of cold Coca Cola
Method:
Muddle together the cherries, bourbon and sugar in a jar.
Cover and leave in the fridge overnight, if possible.
Remove from fridge, split between glasses over ice.
Top with cold coca-cola before serving.
Original recipe here.
3. Champagne Margarita
Serves: 3-4
Ingredients:
Juice of 4 fresh limes

2 oz. Tequila

2 oz. pineapple juice

2 oz. triple sec

1 (750 ml) bottle of champagne or prosecco

lime wedges for garnish

salt for rimming the glasses.
Method:
First rim your glasses. 

Dip the rim of each glass in a shallow dish of water and then into a shallow dish of kosher salt.

Mix all the ingredients together for the margarita base. (Lime juice, tequila, pineapple juice, triple sec)

Add some of the margarita mixture to each glass.

Top with the prosecco or champagne.

Garnish with a lime wedge.
Original recipe here. 
4. Woo Woo
Serves: 1
Ingredients:
half-shot of Peach Schnapps

half-shot of Vodka

90 ml Cranberry Juice
Method:
Pour all ingredients into a glass over ice cubes

Stir with spoon for 15 seconds and serve
Original recipe here. 
5. Malibu Sunset
Serves: 1
Ingredients:
3 to 4 ounces pineapple-orange juice

Shot of Malibu Coconut Rum
grenadine
maraschino cherries, for garnishing
pineapple and/or orange slices, for garnishing
Method:
Add ice to glass.

Add juice, Malibu, and stir.

Drizzle in grenadine.

Garnish with cherries, pineapple, and/or orange slices.

Serve immediately.
Original recipe here.
6. Whiskey Sour
Ingredients:
2 parts bourbon
1 part lemon juice
½ part sugar syrup
½ part egg white
Cubed ice
To garnish: 1 cherry and an orange slice
Method:
Put ice and all of the ingredients into a shaker.
shake hard for about 20 seconds to chill the liquid really well.
Strain the mix into a glass filled with ice.
garnish with the cherry and orange slices.
Serve.
Original recipe here. 
7. Mermaid Water (Our Personal Favourite!)
Serves: 2
Ingredients:
2 shots Captain Morgan Spiced Rum

2 shots Coconut Rum

6 oz (180 ml) parts Pineapple Juice

1/2 oz (15 ml) Lime Juice
Splash of Blue Curacao
Lime Slices for Garnish
Ice
Method:
Place ice and lime slices into a glass.

Pour both the spiced rum and the coconut rum into the glass

Add the pineapple juice and lime juice

Drizzle with blue curacao

serve immediately
Original recipe here. 
8. Strawberry Long Island Iced Tea
Serves: Makes a pitcher of tea, alcohol added to personal preference
Ingredients:
1.8 liters hot black tea

1/3 – 2/3 cup superfine sugar
1/4 to 1/2 cup lemon juice, freshly squeezed
900g strawberries, fresh, washed and hulled
Shot of Vodka , Tequila or gin to taste
Method:
Pour the tea into a ceramic or glass mixing bowl.

Add the 1/3 (or more) cup of sugar and the lemon juice.

Stir through to dissolve the sugar. Test to see if it requires additional sweetening or lemon juice and adjust accordingly. Let cool.

Put several strawberries to one side for garnish. Purée the remaining strawberries.

Push the purée through a fine-sieve to remove pips, etc. Press on the mixture with the back of a wooden spoon.

Once the tea has cooled, add the puree and mix through thoroughly. Place in the refrigerator for at least a half hour to chill.

Add some of your favourite white spirit and a few ice cubes to each glass, fill with strawberry iced tea mix, garnish with one of the remaining strawberries. Enjoy!
Original recipe here.
9. Lemon-Berry Sangria
Serves: 3-4
Ingredients:
1 lemon (thinly sliced)

2 tbsp sugar

¼ cup strawberries (de-stemmed & sliced)

1 bottle prosecco
Method: 
Place the lemons in the bottom of a pitcher or punch bowl.

Sprinkle the sugar on top and muddle.

Add the sliced strawberries.

Muddle the strawberries into the lemons.

Add the prosecco to the pitcher.

Fill with ice and serve.
Original recipe here.