Mullingar Bike Hire
We are a Bike Hire Company Based in Mullingar, Co Westmeath, we have a wide range of Hybrids, Electric Bikes, Tandems and Kids Bikes. In case you are not aware there is now a beautiful purpose built Cycle Path running from Mullingar to Athlone which is traffic free and uses the Old disused Railway line, now called The Rail Trail. There is also a lovely cycle path on The Royal Canal Greenway. Both routes have coffee shops, pubs and restaurants along the route for your clients needs.  We thought this might be of interest to you for your many Hen Party Groups as it is a fun way of being sociable as well as getting exercise ! 
[website-button id="178″ type="both"]
City Hunt with Water Walking Zorbs – Get West
At Get West, we believe that a hen or stag party should be an adventure. We can provide your party with the action it needs to get off to a roaring success! Whether you're looking for some simple water fun or a weekend packed with activities, there's something here for everyone. So round up the lads or lassies, and find your adventure!
Are you up for a laugh? A modern twist on the traditional treasure hunt will have you racing around town "like an eijit" as you complete fun and daring challenges, culminating in Water Walking. Great for a laugh and the perfect way to kick-start the celebrations!
You're guaranteed to be talking about this day out long after the dust has settled. Great craic and everyone is sure to be in high spirits for the night ahead.
We offer this package in Limerick, Galway, Athlone and Carrick on Shannon. Minimum group size is 10 people. Get West can cater for smaller groups but the cost per person is more expensive.
For further info or bookings, please use the contact form below.
[website-button id="170″ type="both"]
Get West
Get West is an exciting water-sports and mobile activities provider based in Limerick City Centre, however we travel nationwide with our activities.
 Organising a Hen or Stag Party is something that you definitely want to get right! So why not take all the fuss and stress out of it by letting Get West organise a truly unforgettable day of adventure for you.
Choose one of our exciting adventure packages below, and we can guarantee your group will leave us smiling. We have both land or water based activities to choose from, and we have half day and full day options.
Package 1. White-water Kayaking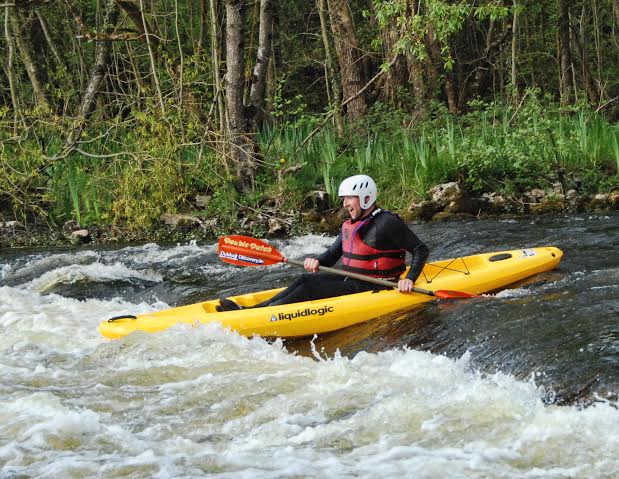 Prepare to take an adrenaline fuelled journey down a white-water stretch of Ireland's longest river in your very own kayak, as you are led down fun slides and rapids by expert and experienced guides. You will be safe and comfortable in our beginner friendly sit on top kayaks on a trip that is sure to get the heart racing. No experience is necessary and you don't even need to be able to swim. [Click Here]
Package 2. Shannon Kayak Adventure and Pier Jumping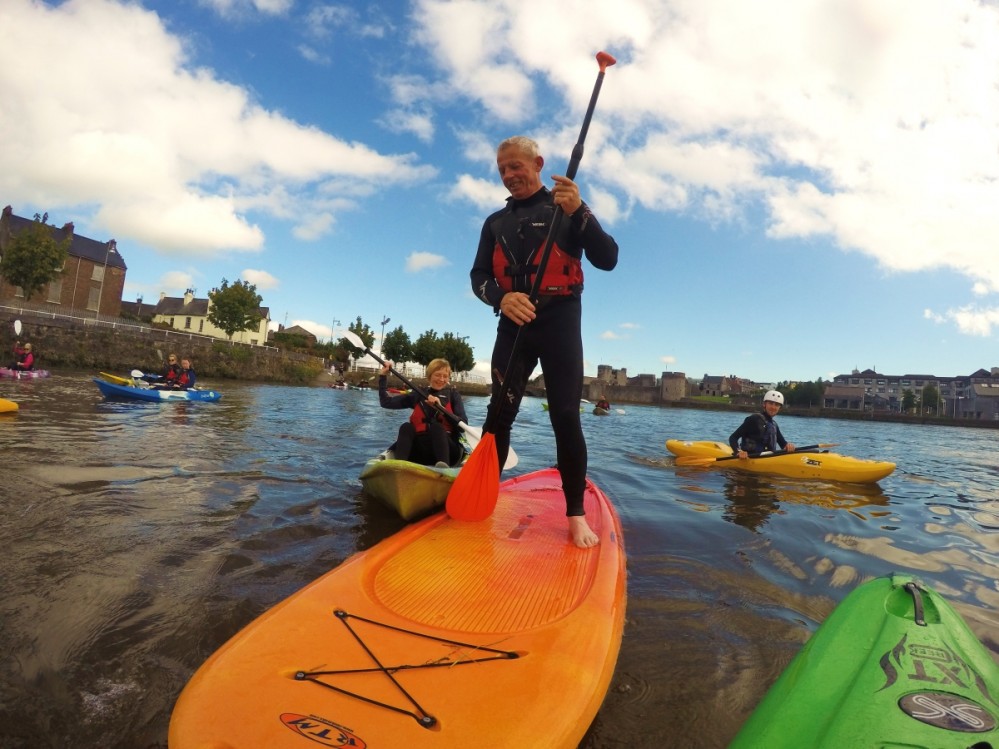 Journey through the historic heart of Limerick City, on your very own sit on top kayak (or stand up paddleboard). Along the way, you will take part in fun-filled activities and challenges, guaranteed to have everyone smiling and laughing. The adrenaline junkies among you then have the option of jumping off the pier into the mighty River Shannon. [Click Here]
Package 3. Stag/Hen Challenges with Archery Tag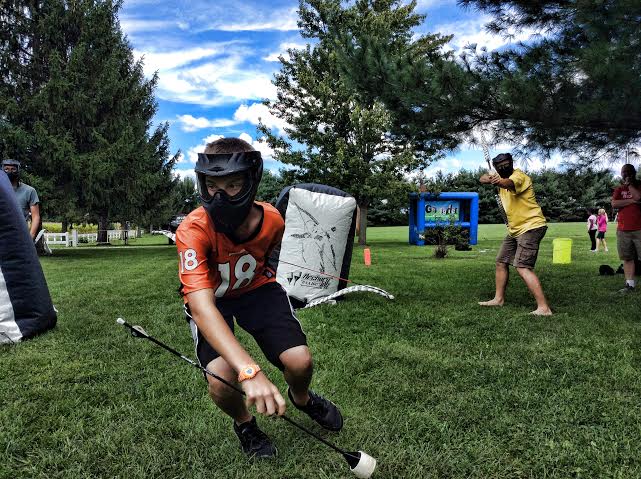 It's time to get competitive! Battle against your fellow stags or hens in a range of fun tasks and challenges, topped off with a game of Archery Tag – a cross between dodgeball and paintball where you shoot each other with bows and arrows.  This one's sure to deliver fantastic fun and lasting memories. [Click Here]
Package 4. City Hunt with Water Walking Zorbs
Are you up for a laugh? A modern twist on the traditional treasure hunt will have you racing around town "like an eijit" as you complete fun and daring challenges, culminating in Water Walking. Great for a laugh and the perfect way to kick-start the celebrations! [Click Here]
Discounts available for different group sizes
– Pay for 15 people, get 16th person free.
– Pay for 20 people, get 21st and 22nd person for free. So if your group size is 22 people, then you will only pay for 20.
[website-button id="170″ type="both"]
Eclipse Ireland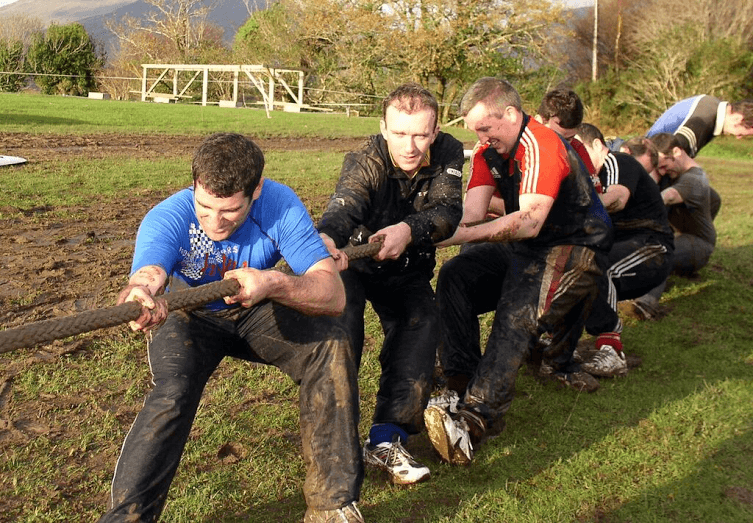 Eclipse Ireland is a custom built Adventure Centre set in stunning countryside. The Centre boasts a huge range of bespoke onsite Adventure Activities for the perfect Stag or Hen party. So, whether you are an adrenalin junky, a super tri-athlete or an average Joe, you can try mud surfing, do archery, take the assault course challenge, build a raft, kayak and play Django Ball™, master orienteering, shine and bond in team games, go cycling, do fly fishing, riding lessons or even go off site and experience an overnight deserted island survival course, an exhilarating coasteering session or gorge walking – all led and under the watchful eye of fun loving, mature and qualified instructors.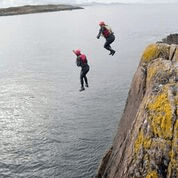 After your adventure the choice of a spa awaits back at the centre to while away, relax and reflect with peace and quiet and the perfect combination to re-connect and bond with your friends.
Follow this with a sumptuous belly busting BBQ to round off the day before you head off into Kenmare with it's fantastic nightlife or on to the local traditional pub and the perfect pint just a short stroll away.
There's something for everyone, whether you want to get off the beaten track and get that feeling of escape with some peace and quiet, but also some activities, then Eclipse Ireland is a must.
Nestled in the Blackwater valley with the backdrop of the magnificent MacGillycuddy Reeks with five luxury self catering holiday cottages, stables, trails, lake and river. Eclipse is situated just over two kilometres from the beautiful Ring of Kerry route and fifteen kilometres from the cultural town of Kenmare on the Wild Atlantic Way. Eclipse is the perfect place for activities as well as peace, tranquillity and a return to nature that will leave you feeling invigorated and refreshed.
[website-button id="169″ type="both"]
Fairyhouse Racecourse
The perfect venue to enjoy your hen party in style! Just 30 minutes from Dublin City Centre this is your chance to glam it up for some VIP treatment with a day at the races. Ideally located with great accessibility, Fairyhouse is the perfect venue to enjoy a great day out. Experience racing in a unique surrounding in your own private suite overlooking the finishing line. Fairyhouse Racecourse is the home to the Irish Grand National and offers one of the best atmospheres in the country!
Gold Package – ​The first option is a private suite this is €80 per person (prices do not apply to our Easter and Winter Fesivals, and includes the below:
3 course silver service meal
Tea/Coffee
Tote betting Facilities in your suite
Private exclusive suite overlooking the finishing straight for the day
Private exclusive balcony
Admission Ticket
Race day programme
Pre-race tipster
View of Track & Parade Ring
Silver Package – ​The second option is our Bobbyjo Bistro package, which is €45 per person for Groups of 10 or more, and includes the below:
3 Course Meal
Tea/Coffee
Tote Facilities in the restaurant
Table reserved for the day
Direct access to the Powers Stand
Admission Ticket
Race day programme
Pre-race tipster
View of Track & Parade Ring
Bronze package – Punters Pack which is €25 per person excluding the below dates:
Winter Festival:
Sat Nov 28th – €30
Sat Nov 29th – €35
Easter Festival:
Sun March 27th – €30
Mon March 28th – €40
Tues March 29th – €30
Package includes:
Admission ticket
Race day Programme
€5 Tote bet
Pint (or glass of wine or soft drink)
Burger (or hot beef roll or similar)
[website-button id="165″ type="both"]
Race day Package
What is a better way to hold your event than in one of Ireland's leading flat or national hunt racecourses? At Henit we can organise an all inclusive package which includes:
A 3 course dinner in a top class restaurant.
One night accommodation in a centralised Hotel.
A bus to and from the race meeting from your desired Hotel location.
Entrance tickets, a free race card and a free bet for all the party members to get the day off to a good start!
Nightclub entrance and a reserved area to top off a great day.
Price- €140 per person.
[website-button id="164″ type="both"]