Mullingar Bike Hire
We are a Bike Hire Company Based in Mullingar, Co Westmeath, we have a wide range of Hybrids, Electric Bikes, Tandems and Kids Bikes. In case you are not aware there is now a beautiful purpose built Cycle Path running from Mullingar to Athlone which is traffic free and uses the Old disused Railway line, now called The Rail Trail. There is also a lovely cycle path on The Royal Canal Greenway. Both routes have coffee shops, pubs and restaurants along the route for your clients needs.  We thought this might be of interest to you for your many Hen Party Groups as it is a fun way of being sociable as well as getting exercise ! 
[website-button id="178″ type="both"]
City Hunt with Water Walking Zorbs – Get West
At Get West, we believe that a hen or stag party should be an adventure. We can provide your party with the action it needs to get off to a roaring success! Whether you're looking for some simple water fun or a weekend packed with activities, there's something here for everyone. So round up the lads or lassies, and find your adventure!
Are you up for a laugh? A modern twist on the traditional treasure hunt will have you racing around town "like an eijit" as you complete fun and daring challenges, culminating in Water Walking. Great for a laugh and the perfect way to kick-start the celebrations!
You're guaranteed to be talking about this day out long after the dust has settled. Great craic and everyone is sure to be in high spirits for the night ahead.
We offer this package in Limerick, Galway, Athlone and Carrick on Shannon. Minimum group size is 10 people. Get West can cater for smaller groups but the cost per person is more expensive.
For further info or bookings, please use the contact form below.
[website-button id="170″ type="both"]
Eclipse Ireland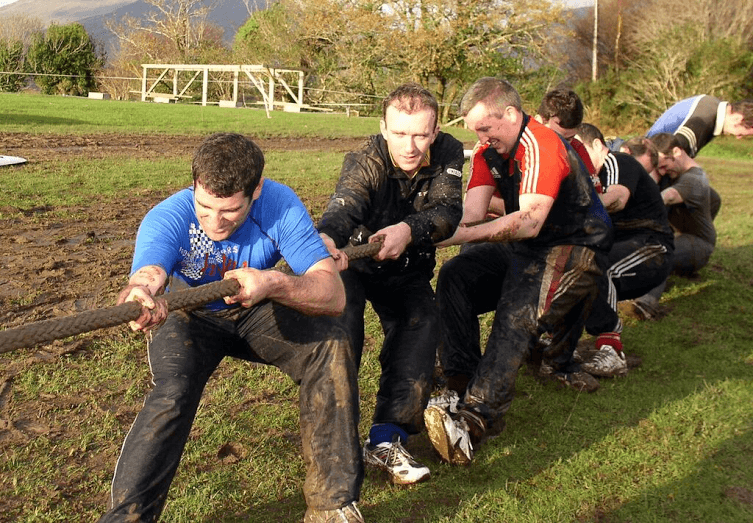 Eclipse Ireland is a custom built Adventure Centre set in stunning countryside. The Centre boasts a huge range of bespoke onsite Adventure Activities for the perfect Stag or Hen party. So, whether you are an adrenalin junky, a super tri-athlete or an average Joe, you can try mud surfing, do archery, take the assault course challenge, build a raft, kayak and play Django Ball™, master orienteering, shine and bond in team games, go cycling, do fly fishing, riding lessons or even go off site and experience an overnight deserted island survival course, an exhilarating coasteering session or gorge walking – all led and under the watchful eye of fun loving, mature and qualified instructors.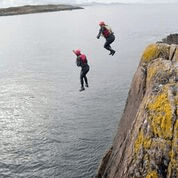 After your adventure the choice of a spa awaits back at the centre to while away, relax and reflect with peace and quiet and the perfect combination to re-connect and bond with your friends.
Follow this with a sumptuous belly busting BBQ to round off the day before you head off into Kenmare with it's fantastic nightlife or on to the local traditional pub and the perfect pint just a short stroll away.
There's something for everyone, whether you want to get off the beaten track and get that feeling of escape with some peace and quiet, but also some activities, then Eclipse Ireland is a must.
Nestled in the Blackwater valley with the backdrop of the magnificent MacGillycuddy Reeks with five luxury self catering holiday cottages, stables, trails, lake and river. Eclipse is situated just over two kilometres from the beautiful Ring of Kerry route and fifteen kilometres from the cultural town of Kenmare on the Wild Atlantic Way. Eclipse is the perfect place for activities as well as peace, tranquillity and a return to nature that will leave you feeling invigorated and refreshed.
[website-button id="169″ type="both"]
Fairyhouse Racecourse
The perfect venue to enjoy your hen party in style! Just 30 minutes from Dublin City Centre this is your chance to glam it up for some VIP treatment with a day at the races. Ideally located with great accessibility, Fairyhouse is the perfect venue to enjoy a great day out. Experience racing in a unique surrounding in your own private suite overlooking the finishing line. Fairyhouse Racecourse is the home to the Irish Grand National and offers one of the best atmospheres in the country!
Gold Package – ​The first option is a private suite this is €80 per person (prices do not apply to our Easter and Winter Fesivals, and includes the below:
3 course silver service meal
Tea/Coffee
Tote betting Facilities in your suite
Private exclusive suite overlooking the finishing straight for the day
Private exclusive balcony
Admission Ticket
Race day programme
Pre-race tipster
View of Track & Parade Ring
Silver Package – ​The second option is our Bobbyjo Bistro package, which is €45 per person for Groups of 10 or more, and includes the below:
3 Course Meal
Tea/Coffee
Tote Facilities in the restaurant
Table reserved for the day
Direct access to the Powers Stand
Admission Ticket
Race day programme
Pre-race tipster
View of Track & Parade Ring
Bronze package – Punters Pack which is €25 per person excluding the below dates:
Winter Festival:
Sat Nov 28th – €30
Sat Nov 29th – €35
Easter Festival:
Sun March 27th – €30
Mon March 28th – €40
Tues March 29th – €30
Package includes:
Admission ticket
Race day Programme
€5 Tote bet
Pint (or glass of wine or soft drink)
Burger (or hot beef roll or similar)
[website-button id="165″ type="both"]
Race day Package
What is a better way to hold your event than in one of Ireland's leading flat or national hunt racecourses? At Henit we can organise an all inclusive package which includes:
A 3 course dinner in a top class restaurant.
One night accommodation in a centralised Hotel.
A bus to and from the race meeting from your desired Hotel location.
Entrance tickets, a free race card and a free bet for all the party members to get the day off to a good start!
Nightclub entrance and a reserved area to top off a great day.
Price- €140 per person.
[website-button id="164″ type="both"]
Celtic Adventures
CELTIC ADVENTURES
We set up in 2012 with 10 canoes, less than 3 years later we are one of the largest mobile outdoor activity providers in Ireland. From canoeing to climbing, zorbing to archery tag we offer our customers the best value day out.
Our team of highly qualified and friendly staff will make sure your adventure is unforgettable!
Archery Tag !
Think Hunger Games meets Nerf…..
This fantastic sport has taken the world by storm and we are one of only four businesses offering it in Ireland.
Brilliant fun for all ages. We can bring this amazing activity to you. Ideal for indoors or outdoors.
Ever wanted to fire arrows at the boss????Allow us to make that dream come true!!!
Climbing Wall.
Our mobile climbing wall is a 6.5 meter tall. We can accommodate 4 climbers at once and offer over 40 different routes to cater for all skill levels.
You can come to us or we can go to you! Ideal for parties, festivals, school fetes, corporate events, private functions and much more…
With four different climbs offering over 40 different you'll never get bored!
Our highly trained and skilled staff will also teach new climbers how to belay, basic climber knots and safe climb techniques.
Ideal for all ages.
Don't forget to try our blindfold climbing challenge.
Or in list for our new Team Building packages!
Package 1.  
Canoe trip, airsoft game, adult games, and camping in a military tent by camp fire.
Includes: a white water canoe trip on the Boyne river, 3 hours of Airsoft games including insertion into battle in an APC, team games including Duelling Pistols and Sniper Alley, a night in one of our Army tents with standard issue cots and equipment, camp fire and 3 hot meals including a full irish breakfast! €150pp
Package 2. 
 Full on Military Simulation: Boot camp, training drills, combat simulations, team missions, orienteering and much much more!!!
Think Full Metal Jacket meets Rambo!! Food bed and shelter provided. Bring your own beer!! €130pp
[website-button id="160″ type="both"]
Big Red
You can find our booking office right in the centre of Killarney town at the market cross on main street. Pop in and we can give you information about the tour. See our timetable. Its easy, book with us or HOP ON at any of our bus stops.
See Killarney at your leisure, our service starts at 10.00 each day, leaving from our stop on the EAST AVENUE ROAD in the centre of town seven days a week. We will take you through the town, highlighting all the local historical landmarks, birth places of some of our famous sons and characters (allowing time for photographs) we then proceed our stop at AGHADOE where you can HOP OFF (historic 13th century tower, church and a majestic panoramic view of the lakes and he mountains), then its off to ROSS CASTLE on the lakeshore (15th century castle) he there are beautiful walks, boat and jaunting car trips, we then head to MUCKROSS HOUSE & GARDENS (18th century home to the Herbert family, with its sprawling grounds and winding trails, restaurant, museum, cafe etc) then onto TORC WATERFALL, a most beautiful view can be had from the top of the steps that wind up the mountainside next to the falls.
From any of our stops you can HOP OFF and easily spend two and half hours exploring or relaxing until the bus comes along again or just stay on and enjoy the tour. If you cant fit it all into one day, your tickets are valid for two days. Our tour is designed to make the Killarney experience your own. A free map and history guide are available along with live guided commentary onboard from our driver/guide.
[website-button id="124″ type="website, phone, email, both"]
North West Adventure
White water Rafting at North west Adventure Sligo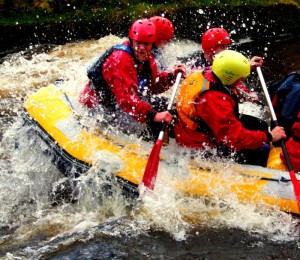 White Water Rafting North West Adventure, Sligo Ireland!
White Water Rafting is the most  Exciting popular Team Adventure Activity.
White water rafting is the number one safest coolest way of taking a group of novices down our mighty 'Boyle'  river.
The rafts are made of toughened  durable Polyurethane Plastic.  They have several compartments for air, so in the unlikely event that one should burst all the others stay up.  The floor is inflatable too.  It is self bailing.  They are a beautiful boat built for Fun!
The mighty 'Boyle' river is full of natural features, drops & rapids. As a grade II river it is suitable for beginners. You won't be staring death in the face but you are Guaranteed lots of fun!
Catching some great rapids this winter.
We have 2 runs every day 11am & 2pm. Booking is essential. Call now to book or email to check availability.
All White Water Rafting is depending on the water levels of the day and weather permitting.  Terms & Conditions must be read and signed before a booking can be confirmed.
[website-button id="141″ type="website, phone, email, both"]
Big Day Out
We believe that you deserve a special treat so we have devised a "BIG DAY OUT IN LEITRIM" for you. Leitrim Landscapes Guided Walks, Electric Bike Trails and Adventure Gently Guided Canoe Tours have come together to offer you that special day out. As guides with all the local knowledge we have selected a magnificent location in Leitrim to bring you on a magical trip, surrounded by nature in a really fun relaxed atmosphere. Here's what we have in store for you: A 1 hour guided nature foraging walk, a 1.5 hour guided Canadian Canoe trip on the peaceful Shannon Blueway and a 1 hour guided electric bike tour. This activity will take approx. 4 hours so bring a packed lunch.
All safety equipment and instructions will be supplied so no need to worry about a thing. You get to experience the beauty of Leitrim landscape on foot, on water and from the saddle.
Group prices from €45 per person (10 or more people).
[website-button id="130″ type="website, phone, email, both"]
Discovering Cork
Are you ready for a hen party to remember? If so then you have come to the right place. If you are the kind of chick that likes to get all glammed up for a night on the town or a down and dirty kind of bird, we have got the hen for you. Our hen parties are legendary as we cater for all tastes and budgets. In fact we are the only company to offer hen parties in Cork City, Kinsale, Clonakilty and beautiful Bantry with prices starting from just €99.00pp sharing including accommodation. If you have already booked a place to stay, that's fine too, we'll just arrange the fun stuff.
So why not email us on hens@discoveringcork.ie or call us on 021 423 0385 as we love a good natter and tell us what you have in mind.
P.S. We'll have the kettle on when you call.
[website-button id="132″ type="website, phone, email, both"]