The Barrelstore Accommodation
We can offer quality self-catering accommodation in our 7 apartments located conveniently over the bar, in the heart of Carrick on Shannon. A separate entrance brings you upstairs to our courtyard setting shared with 7 apartments.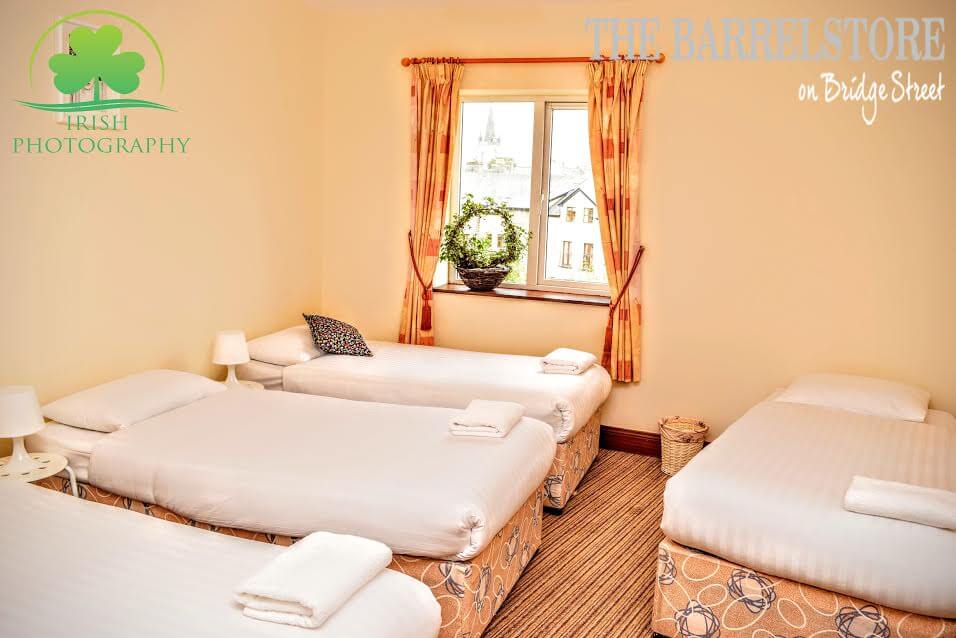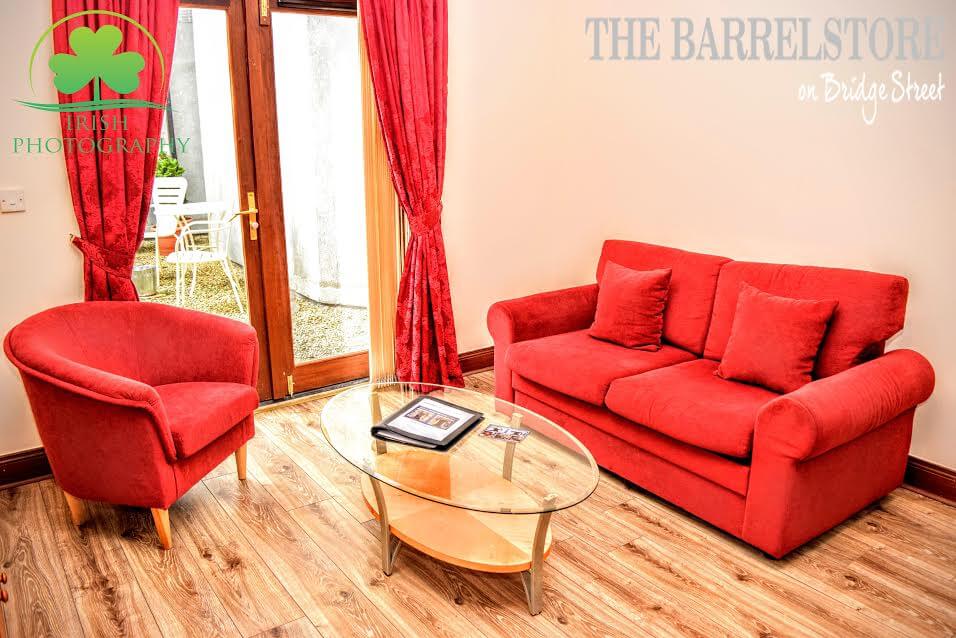 All of the bedroom apartments are supplied with luxurious bedding and towels. Each apartment has a main Bathroom and an En-suite Bedroom.
The kitchens are fully equipped facilities:
Tea and Coffee maker
Fridge,
Fridge freezer
Dishwasher
You can relax in the comfortable seating areas. Room sizes vary from sleeping 5 people, to sleeping 10 people.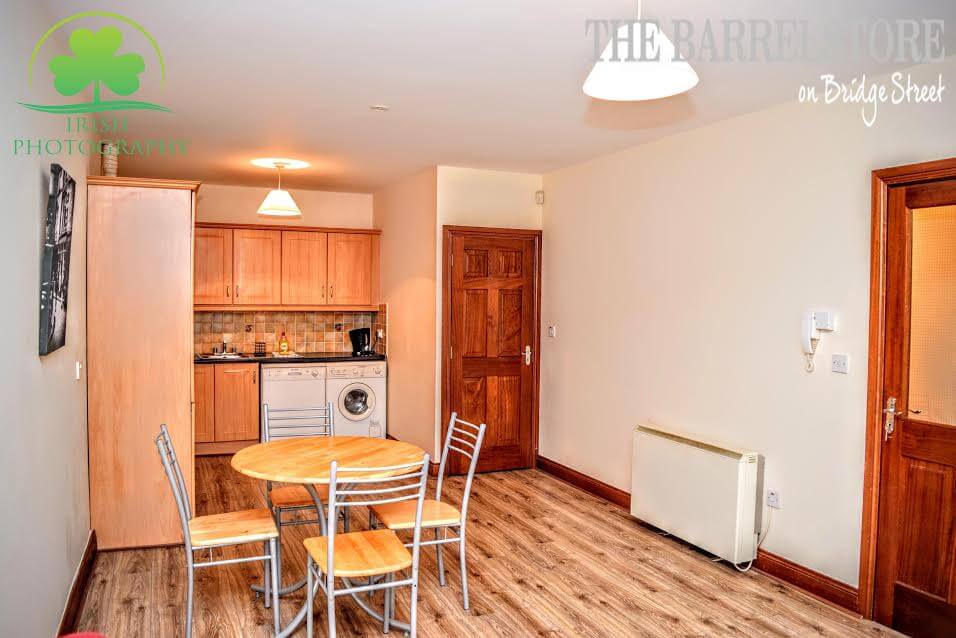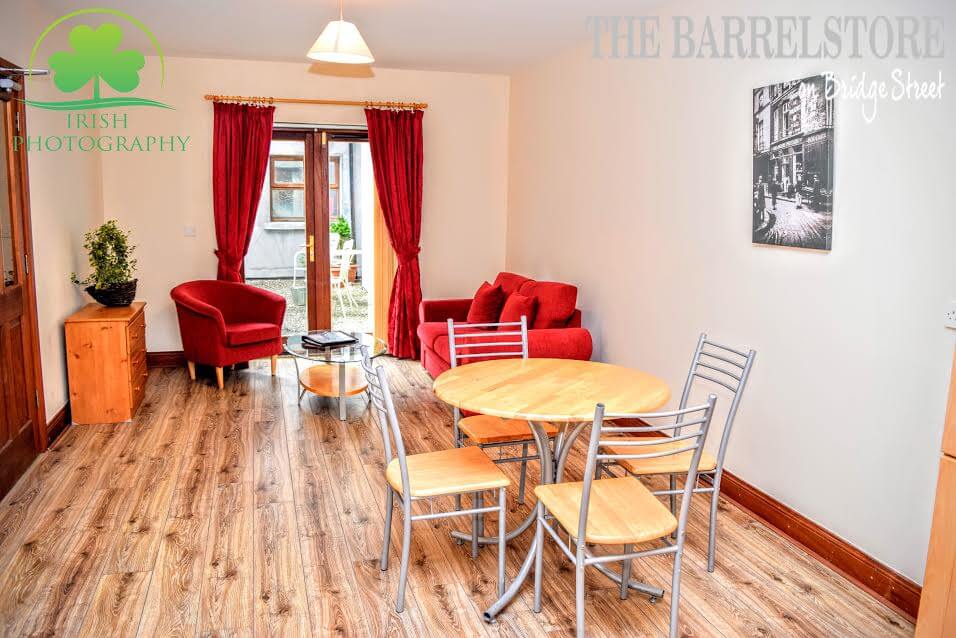 Follow Us on Facebook And Twitter
[website-button id="179″ type="both"]
Aisleigh Guest House
Aisleigh Guest House is well appointed and situated on the main Dublin, Sligo N4 road and has gained a reputation for fine food, friendly service and a warm homely atmosphere. Local genealogy a specialty. All guest rooms are en-suite with Direct Dial telephone and TV's Houses to rent are also available in Carrick-on-Shannon and bookings can be made through Aisleigh Guest House. These five spacious houses are conveniently located in the town center.
[website-button id="150″ type="website, phone, email, both"]
Kilkenny Self Catering

Welcome to Self Catering Kilkenny!
We manage all types of accommodation in Kilkenny. All our accommodation are centrally located within distance of all amenities. Kilkenny is a well known hot spot for groups including hens and stags. With a wide range of activities, restaurant and pubs and clubs. You will be sure to find something that will suit your group. There is many things to do in Kilkenny from visiting all the historic hot spots like Kilkenny Castle or just for a nice relaxing meal in some of the top restaurants in town.
Kilkenny is a very family friendly town with oodles of things to do to keep your family entertained. We can provide you with the ideal accommodation for your family trip all year round.
We take all the hassle away of organising your trip and will provide all you need for your break away. Kilkenny Self Catering provides trips for all year round. Contact us and tell us what you need for your ideal trip away.
[website-button id="53″ type="website, phone, email, both"]
Ballaghmore Castle
Ballaghmore Castle can be rented weekly or weekends for self-catering private parties and hen parties. Genuine 15th century Irish Castle set in 30 acres of beautiful countryside renown for its fishing, shooting, riding, hunting, hill walking, mountain climbing and golf. Ballaghmore Castle is a unique and beautiful place to spend time with friends or family.
Ballaghmore Castle offers its guests a wonderful setting for their stay. In a world of generic hotel rooms, the accommodation offered at Ballaghmore is truly unique. Each room has its own charm, from the gothic arches, timber beams, exposed stone, and heavy wooden doors.
Ballaghmore Castle can be rented weekly or weekends, for private parties, weddings etc. Self-catering or staffed.

[website-button id="10″ type="website, phone, email, both"]
Carrick Apartments

Carrick Apartments are fully furnished and are located in the heart of Carrick On Shannon on Main Street,  just minutes walk from all the local amienities, pubs, nightclubs, shops and restaurants.
They offer fantastic packages at great value that let you fully experience everyhting carrick on shannon has to offer! They can customise a great package deal that allows you to make use of what Carrick On Shannon has to offer.
All of their apartments are homely, comfortable, tastefully furnished, and fully equipped with all modern conveniences such as bed linen, kitchen with cooking and dining facilities, refrigerator, spacious sleeping and living areas, and TV.


Send Carrick Apartments a message using the form below and and let them organise everything you need to make it a brilliant weekend.
[website-button id="20″ type="website, phone, email, both"]
Riverside Paradise

Kick back, relax, and live like a queen in your own luxurious Riverside Paradise. You and up to 11 friends can hide away, snuggle up, and enjoy endless pampering and a fun weekend at Riverside Paradise self-catering holiday home. To make your experience an unforgettable one, we can organise a number of activities for you to choose from:
Their local Beauty Therapist, Judy and her team, can visit you and your friends at Riverside Paradise to help you escape the pressures of life through the heavenly treatments and therapies, she and her staff, can offer you,
Personal Make Up demonstrations for you and your friends,
A cookery lesson, from their own local chef,
And if you like, their local chef can even cook that special dinner for you and your guests.
As the evening approaches why not watch one of their girly DVDs on the wide screen TV in their large, cosy sitting room. Imagine that big glass of wine, great company, and a crackling log fire. You might just have another glass of that wine before you settle down for the night or early hours of the following day.
If after all that pampering you want to hit the pubs, the town of Banagher is just 2 km from Riverside Paradise. Banagher itself boast 6 great pubs and a family run hotel. The atmosphere in the pubs is warm and welcoming to visitors. At the weekends a lot of the local pubs provide live music. Make sure you check out Hocks on the main street. You and all the girls are bound to have a great laugh and the perfect send off.
So, If you think you found the perfect spot for your girlie weekend and it lives up to all your ideas then contact Riverside Paradise today using the form below.

Oops! We could not locate your form.
[website-button id="118″ type="website, phone, email, both"]