Get West
Get West is an exciting water-sports and mobile activities provider based in Limerick City Centre, however we travel nationwide with our activities.
 Organising a Hen or Stag Party is something that you definitely want to get right! So why not take all the fuss and stress out of it by letting Get West organise a truly unforgettable day of adventure for you.
Choose one of our exciting adventure packages below, and we can guarantee your group will leave us smiling. We have both land or water based activities to choose from, and we have half day and full day options.
Package 1. White-water Kayaking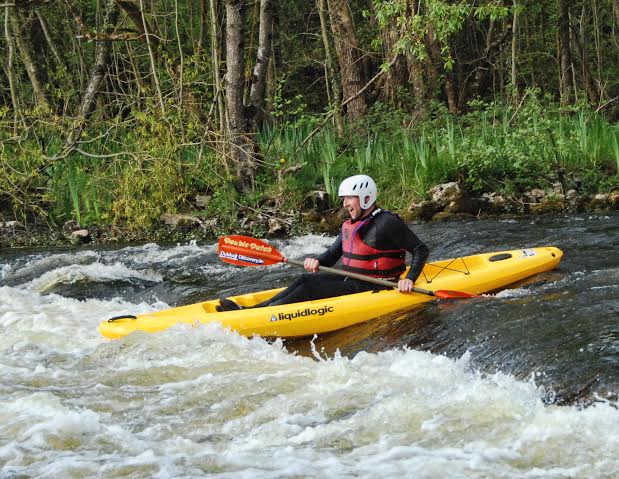 Prepare to take an adrenaline fuelled journey down a white-water stretch of Ireland's longest river in your very own kayak, as you are led down fun slides and rapids by expert and experienced guides. You will be safe and comfortable in our beginner friendly sit on top kayaks on a trip that is sure to get the heart racing. No experience is necessary and you don't even need to be able to swim. [Click Here]
Package 2. Shannon Kayak Adventure and Pier Jumping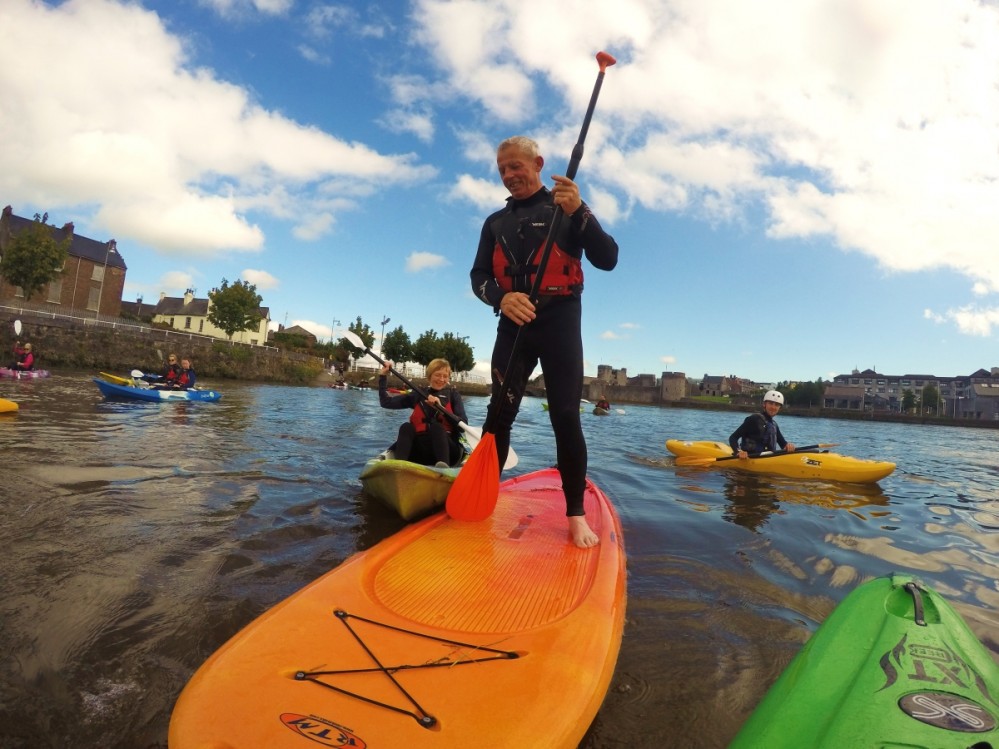 Journey through the historic heart of Limerick City, on your very own sit on top kayak (or stand up paddleboard). Along the way, you will take part in fun-filled activities and challenges, guaranteed to have everyone smiling and laughing. The adrenaline junkies among you then have the option of jumping off the pier into the mighty River Shannon. [Click Here]
Package 3. Stag/Hen Challenges with Archery Tag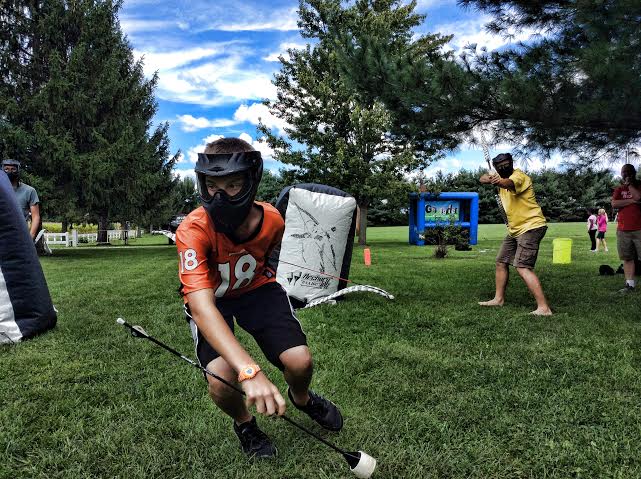 It's time to get competitive! Battle against your fellow stags or hens in a range of fun tasks and challenges, topped off with a game of Archery Tag – a cross between dodgeball and paintball where you shoot each other with bows and arrows.  This one's sure to deliver fantastic fun and lasting memories. [Click Here]
Package 4. City Hunt with Water Walking Zorbs
Are you up for a laugh? A modern twist on the traditional treasure hunt will have you racing around town "like an eijit" as you complete fun and daring challenges, culminating in Water Walking. Great for a laugh and the perfect way to kick-start the celebrations! [Click Here]
Discounts available for different group sizes
– Pay for 15 people, get 16th person free.
– Pay for 20 people, get 21st and 22nd person for free. So if your group size is 22 people, then you will only pay for 20.
[website-button id="170″ type="both"]
Eclipse Ireland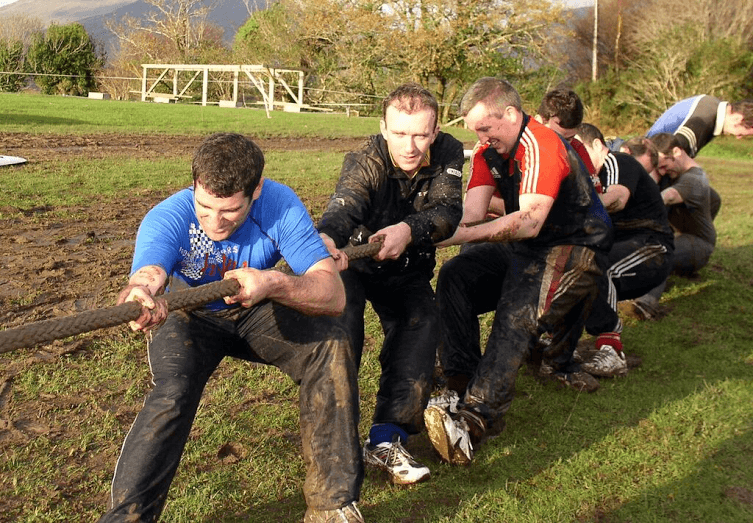 Eclipse Ireland is a custom built Adventure Centre set in stunning countryside. The Centre boasts a huge range of bespoke onsite Adventure Activities for the perfect Stag or Hen party. So, whether you are an adrenalin junky, a super tri-athlete or an average Joe, you can try mud surfing, do archery, take the assault course challenge, build a raft, kayak and play Django Ball™, master orienteering, shine and bond in team games, go cycling, do fly fishing, riding lessons or even go off site and experience an overnight deserted island survival course, an exhilarating coasteering session or gorge walking – all led and under the watchful eye of fun loving, mature and qualified instructors.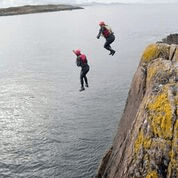 After your adventure the choice of a spa awaits back at the centre to while away, relax and reflect with peace and quiet and the perfect combination to re-connect and bond with your friends.
Follow this with a sumptuous belly busting BBQ to round off the day before you head off into Kenmare with it's fantastic nightlife or on to the local traditional pub and the perfect pint just a short stroll away.
There's something for everyone, whether you want to get off the beaten track and get that feeling of escape with some peace and quiet, but also some activities, then Eclipse Ireland is a must.
Nestled in the Blackwater valley with the backdrop of the magnificent MacGillycuddy Reeks with five luxury self catering holiday cottages, stables, trails, lake and river. Eclipse is situated just over two kilometres from the beautiful Ring of Kerry route and fifteen kilometres from the cultural town of Kenmare on the Wild Atlantic Way. Eclipse is the perfect place for activities as well as peace, tranquillity and a return to nature that will leave you feeling invigorated and refreshed.
[website-button id="169″ type="both"]
Celtic Adventures
CELTIC ADVENTURES
We set up in 2012 with 10 canoes, less than 3 years later we are one of the largest mobile outdoor activity providers in Ireland. From canoeing to climbing, zorbing to archery tag we offer our customers the best value day out.
Our team of highly qualified and friendly staff will make sure your adventure is unforgettable!
Archery Tag !
Think Hunger Games meets Nerf…..
This fantastic sport has taken the world by storm and we are one of only four businesses offering it in Ireland.
Brilliant fun for all ages. We can bring this amazing activity to you. Ideal for indoors or outdoors.
Ever wanted to fire arrows at the boss????Allow us to make that dream come true!!!
Climbing Wall.
Our mobile climbing wall is a 6.5 meter tall. We can accommodate 4 climbers at once and offer over 40 different routes to cater for all skill levels.
You can come to us or we can go to you! Ideal for parties, festivals, school fetes, corporate events, private functions and much more…
With four different climbs offering over 40 different you'll never get bored!
Our highly trained and skilled staff will also teach new climbers how to belay, basic climber knots and safe climb techniques.
Ideal for all ages.
Don't forget to try our blindfold climbing challenge.
Or in list for our new Team Building packages!
Package 1.  
Canoe trip, airsoft game, adult games, and camping in a military tent by camp fire.
Includes: a white water canoe trip on the Boyne river, 3 hours of Airsoft games including insertion into battle in an APC, team games including Duelling Pistols and Sniper Alley, a night in one of our Army tents with standard issue cots and equipment, camp fire and 3 hot meals including a full irish breakfast! €150pp
Package 2. 
 Full on Military Simulation: Boot camp, training drills, combat simulations, team missions, orienteering and much much more!!!
Think Full Metal Jacket meets Rambo!! Food bed and shelter provided. Bring your own beer!! €130pp
[website-button id="160″ type="both"]
Irish Shooting Sports
Irish Shooting Sports Range is the door to shooting sports in Ireland's southwest, situated in an ideal location at the gateway to Kerry, in close proximity to Limerick and Cork. The Shooting Range is ideally positioned to cater for all clay pigeon shooting, archery , rifle and Pistol needs for the Munster province. Irish Shooting Sports specializes in group activities from stag/hen days to corporate and team building days. Our all weather shooting ranges are open in all seasons with flood lighting available throughout the winter. The enclosed ranges guarantees your day will not be ruined by our unpredictable weather.
Shooting ranges are a great way to unwind and release the stress of everyday life. As a sport, rifle shooting can be a commanding and rewarding experience. It demands calm and concentration, much like Clay Pigeon Shooting.
Irish Shooting Sports specialises in both individual and group entertainment, offering a wide variety of targets and disciplines with individual tuition for each participant. Safety is paramount and all our expert instructors are experienced and qualified in all aspects of safe gun handling and rifle marksmanship.

There is an all-weather enclosed shooting layout planned so that adverse weather conditions will not interfere with any shooting. All equipment that is required is provided onsite or you can bring your own – ammunition, targets, hearing protection, and of course, guns!
[website-button id="49″ type="website, phone, email, both"]
Archery Tag – Get West
At Get West, we believe that a hen or stag party should be an adventure. We can provide your party with the action it needs to get off to a roaring success! Whether you're looking for some simple water fun or a weekend packed with activities, there's something here for everyone. So round up the lads or lassies, and find your adventure!
One of our most popular, and exciting, packages this season is our Mighty Archery Tag Challenge. Competitive juices are unleashed in a series of fun tasks and challenges before the score is settled in an exciting and skilful game of Archery Tag; a fast paced cross between dodgeball and paintballing. You'll be ducking, dodging and diving for cover as you and your opponents aim for each other with bows and foam-tipped arrows.
You're guaranteed to be talking about this day out long after the dust has settled. Great craic and everyone is sure to be in high spirits for the night ahead.
We offer this package in Limerick, Galway, Athlone and Carrick on Shannon. Minimum group size is 10 people. Get West can cater for smaller groups but the cost per person is more expensive.
For further info or bookings, please use the contact form below.
[website-button id="170″ type="both"]