What You Need to Plan a Wedding on the Ocean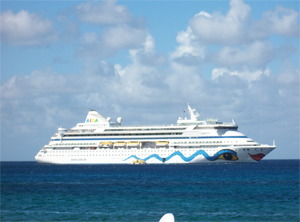 Tying the knot while sailing the seven seas is not only a romantic notion; it is also a great way to get your friends and family together in a casual setting where you can all celebrate love and romance in style. Of course, planning a wedding on a luxury passenger liner will involve more than just booking a few berths.
Here, we will look at a few of the most important steps when it comes to preparing for your magical sea voyage in just the right manner. Hens might want to look at these tips if they wish to have their wedding on the ocean.
Choose the Type of Journey
Since this is your special celebration, you'll need to book an ocean itinerary that fulfils your wishes. First, you'll need to decide where you want to get married, whether at the port prior to disembarkation or while you're on the boat itself. This will have a significant impact on other plans.
Also, decide where you are heading on your sea-going adventure. As the boat journey is basically your honeymoon, you'll need to stop at ports of call that really suit your needs and wishes. Have a look at the different itineraries available and see which ones you think are the most exciting to visit. Ask for your husband-to-be's opinion as well.
Pick a Date and Notify the Guests
Now, it will be time to choose when you're going to sail off into the sunset. Give yourself plenty of time to make all of the proper arrangements too. Make sure that you don't feel too rushed in these planning stages. At least three months is recommended, although you'll be better off planning in advance to reduce the stress as much as possible.
Also make sure to let your guests know of the disembarkation dates so that they can make the proper arrangements on their own. After all, if your cruise is visiting other countries, they'll need to get their passports and visas in order before departing. By providing them with plenty of time, you'll ensure that more people can actually attend the wedding as well.
Make the Right Arrangements
Now, it'll be time to sort out specific matters with regards to the sea journey itself. These include:
Contacting the ocean liner and seeing what packages they offer
Hiring a priest or celebrant for the actual wedding ceremony
Getting the necessary marriage license to make it legally binding
Setting up a wedding registry (possibly to cover travel expenses)
Choosing a tuxedo, gown and other clothes for the ceremony
As you can see, there are plenty of aspects to consider when it comes to preparing the ocean voyage part of the journey. For detailed planning, you'll need to sit down with your tour company and find out exactly what needs to be arranged. With a little hard work, you can cover all bases with ease.
Deal Properly with the Wedding Planner
Now, it'll be time to focus on the ceremony itself. To make this job easier, it is advised to hire a wedding planner. It is also important to be completely open with these professionals as it'll make their job even easier. Sit down and discuss all important details with them, including aspects such as:
Guest invitations
Floral decorations
Food & beverages
Photographers
Music & entertainment
If you have any special considerations for yourself or your guests during the ocean journey, you should let your wedding planner know of these as soon as possible. In this way, they can make the proper arrangements so that the ceremony goes off without a hitch. By being forthright with information, you'll allow them to do their job in the best manner possible.
About the Author:
Sofia Walton is a freelance writer from Cruise.co, a reliable resource for cruise passenger ratings, answers, and reviews. They even display detailed itineraries of ports of call along with drink prices.